In Person Learning Continues until May 28
In Person Learning Continues until May 28
CUHSD campuses are officially open for In Person Learning (IPL)! Beginning Tuesday, April 13, students have the option to attend IPL sessions in the afternoon from 1:45-3:45 PM Tuesday-Friday.
Distance Learning remains the same for the morning
On-campus Learning Pods continue for the morning
Attending the IPL sessions in the afternoon is voluntary
The weekly schedule is open to all grade levels by content area (New IPL schedule on page 2, see the links below)

Desert Oasis and Phoenix Rising have slightly different schedules

Classes are limited to 15 students
Students and staff must wear a mask/face covering and maintain social distancing
We are delighted to see our students again.
Daily Health Self Check- Frontline Health Portal
Daily Health Self Check- Frontline Health Portal
Beginning April 12, we request all students and staff to use the Front Line Health Portal app to do your daily symptom check.
Download the Front Line Health Portal app from your iTunes or Android store

Students can activate the account with their @mycushd.org email address

Each day, students and staff complete the health check and submit

Save the daily badge as a photo.

Show that photo at the entrance gates to speed the screening process up.
Here are the links to create the account:
Suicide Prevention
Suicide Prevention
Depression and other mental health issues are real. There is support for those that need help immediately.

National Suicide Hotline 1 (800) 273-8255
US Congressional Art Contest Winner, Priscila Jimenez CoRrales ('21), CUHS
US Congressional Art Contest Winner, Priscila Jimenez CoRrales ('21), CUHS
Congratulations to Priscila Jimenez Corrales of Central Union High School for her winning piece, "On Nana's Couch".
"I painted my youngest sister sitting on my Nana's couch while we were visiting family in Mexico for the first time in about 9 years. I was inspired to paint this since my sister has a certain gaze that I find unique to her and my brother, both of whom have Autism. I wanted to paint that gaze since I find it reflects my sibling's condition and as well the importance of patience and calmness, something that I find crucial when advancing from difficult circumstances, like the ones we are facing now," said Priscila Corrales.
It is an honor to congratulate our winner and all the participants that submitted amazing work for California's 51st district's Congressional Art Competition. Congressman Juan Vargas
The culmination of the competition will be the year-long display of the winning artwork at the U.S. Capitol.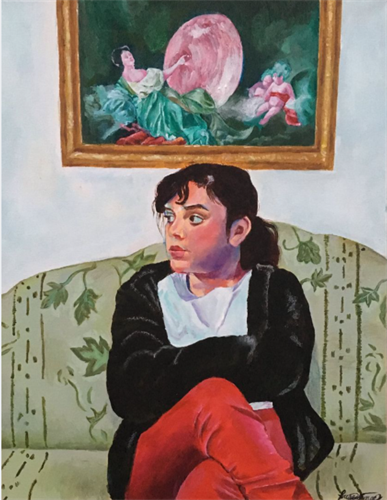 Our Mission
We each take responsibility for high expectations for students learning essential skills, and developing abilities and knowledge by working collaboratively with our school community and providing a safe learning environment.
Learn More