Staying Safe while at School
Staying Safe while at School
We opened school in-person for all students on August 9, 2021. Distance Learning like last school year, is not available. Students must be enrolled for In-Person Learning or enroll in Independent Study.
Free COVID-19 Testing
COVID Clinic Inc. established testing clinics at Central Union, Desert Oasis and Southwest High Schools for drop in and required testing for students and staff, AND, the family members of students and staff. Results are given to the individual and school district for the purpose of contact tracing. Testing is free, but there is a registration and consent process
All students, faculty, staff, and contractors:
Visit https://school.covidclinic.org/

.

Click register for first test with Covid Clinic.
Indicate if you are a parent/guardian, student, or staff. ONLY SELECT STUDENT IF YOU ARE 18 YEARS OLD OR OLDER. If you are parent of students who are under 18 select parent/guardian. If you are both a parent AND staff, please select staff
Complete all the other required information, sign, and click register.
If you need to register dependents, check your email for a one-time passcode, return to https://school.covidclinic.org/, and click "returning user". After you log in with the one time passcode you can scroll down and click add dependents.
Now you are all set! Your information is safely secured so you can quickly and easily get a NO-COST-TO-PATIENT test when you need one.
Now, anytime you need a test:
Just visit https://school.covidclinic.org/
Click "Returning User"
Request a one-time passcode. (You need this every time you request a test)
Log in, click

Place Order

to request a test, mark any symptoms (if applicable) and save.
Visit the on-site testing kiosk and get tested! No appointment is required.
An email will follow with the test results.
Times and Locations
Testing will be available Monday through Friday from 8:00 AM to 4:00 PM at the following locations:
Central Union High School, near the girls locker room
Desert Oasis High School, in the parking lot near the front gate (Monday-Friday 10 AM to 3:00 PM)
Southwest High School, near Tech 2 in the storage yard
The COVID Dashboard has moved.
Layers of protection keep you and others safe at school
Check your health each day. If you feel sick, stay home. If the symptoms don't improve, then please get medical care and a COVID-19 test.
Consider getting fully vaccinated with a COVID 19 vaccine and your annual flu shot.
Masks are required when indoors at school by order of the California Pubic Health Department. Consider wearing a mask outdoors in crowded spaces.
Wash your hands and/or use hand sanitizer regularly.
Helpful links:
Daily Health Self Check- Frontline Health Portal
Daily Health Self Check- Frontline Health Portal
Beginning April 12, we request all students and staff to use the Front Line Health Portal app to do your daily symptom check.
Download the Front Line Health Portal app from your iTunes or Android store

Students can activate the account with their @mycushd.org email address

Each day, students and staff complete the health check and submit

Save the daily badge as a photo.

Show that photo at the entrance gates to speed the screening process up.
Here are the links to create the account:
Suicide Prevention
Suicide Prevention
Depression and other mental health issues are real. There is support for those that need help immediately.

National Suicide Hotline 1 (800) 273-8255
US Congressional Art Contest Winner, Priscila Jimenez CoRrales ('21), CUHS
US Congressional Art Contest Winner, Priscila Jimenez CoRrales ('21), CUHS
Congratulations to Priscila Jimenez Corrales of Central Union High School for her winning piece, "On Nana's Couch".
"I painted my youngest sister sitting on my Nana's couch while we were visiting family in Mexico for the first time in about 9 years. I was inspired to paint this since my sister has a certain gaze that I find unique to her and my brother, both of whom have Autism. I wanted to paint that gaze since I find it reflects my sibling's condition and as well the importance of patience and calmness, something that I find crucial when advancing from difficult circumstances, like the ones we are facing now," said Priscila Corrales.
It is an honor to congratulate our winner and all the participants that submitted amazing work for California's 51st district's Congressional Art Competition. Congressman Juan Vargas
The culmination of the competition will be the year-long display of the winning artwork at the U.S. Capitol.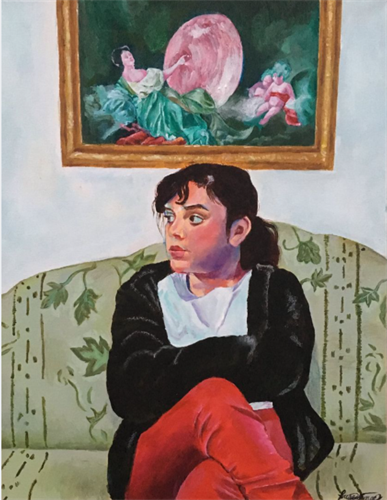 Our Mission
We each take responsibility for high expectations for students learning essential skills, and developing abilities and knowledge by working collaboratively with our school community and providing a safe learning environment.
Learn More