Notice of Public Hearing on the Sufficiency of Textbooks or Instructional Materials at the Central Union High School District for the 2023-2024 School Year
As a condition of compliance with Education Code 60119, the governing board shall hold a public hearing or hearings at which the governing board of every local educational agency (LEA) that receives state instructional materials funds must hold an annual public hearing before the end of the eighth week from the first day pupils attend school for that year. At the public hearing, the governing board must make a determination as to whether each pupil in each school has sufficient textbooks or instructional materials, or both, that are aligned to the content standards and are consistent with the content and cycles of the curriculum framework adopted by the State Board of Education in reading/language arts, mathematics, science, and history/social science. Therefore, a public hearing regarding instructional materials sufficiency will be held September 12, 2023, at 6:00 pm at the regularly scheduled meeting of the Central Union High School District Board of Trustees. Parents, teachers, members of the community and bargaining unit members are encouraged to participate.
At this meeting, Resolution 091223-05 will be considered for adoption.
The meeting will be held in person at Central Union High School District, 351 Ross Ave, El Centro, CA 92243.
A Notice of Public Hearing was posted on the district website homepage and the three schools' homepages from August 25 through September 12.
Aviso de audiencia pública sobre la suficiencia de libros de texto o materiales de instrucción en el Distrito de Escuelas Secundarias Central Union para el año escolar 2023-2024
Como condición para cumplir con el Código de Educación 60119, la junta directiva deberá celebrar una audiencia pública o audiencias en las que la junta directiva de cada agencia educativa local (LEA) que recibe fondos estatales para materiales de instrucción debe celebrar una audiencia pública anual antes de que finalice el octava semana desde el primer día en que los alumnos asisten a la escuela para ese año. En la audiencia pública, la junta directiva debe determinar si cada alumno en cada escuela tiene suficientes libros de texto o materiales de instrucción, o ambos, que estén alineados con los estándares de contenido y sean consistentes con el contenido y los ciclos del marco curricular adoptado. por la Junta Estatal de Educación en lectura/artes del lenguaje, matemáticas, ciencias e historia/ciencias sociales. Por lo tanto, se llevará a cabo una audiencia pública sobre la suficiencia de los materiales de instrucción el 12 de septiembre de 2023, de 1 a 6:00 p. m. en la reunión programada regularmente de la Junta Directiva del Distrito de Escuelas Secundarias de Central Union. Se anima a participar a los padres, maestros, miembros de la comunidad y miembros de la unidad de negociación.
En esta reunión se considerará para su adopción la Resolución 091223-05.
La reunión se llevará a cabo en persona en Central Union High School District, 351 Ross Ave, El Centro, CA 92243.
Se publicó un Aviso de audiencia pública en la página de inicio del sitio web del distrito y en las páginas de inicio de las tres escuelas del 25 de agosto al 12 de septiembre.
California Healthy Kids survey
California Healthy Kids survey
Dear Parent or Guardian,


We are requesting your permission for your child to be a part of our school's California Healthy Kids Survey sponsored by the California Department of Education. This important survey will help provide data to improve the school learning environment, academic achievement, and the health and wellbeing of our youth. It includes questions about drug abuse, safety and violence, risk of depression and suicide, and sexual orientation.


Student participation is voluntary and anonymous. Your child does not have to take the survey. No names or any other identifying information is connected to the answers except for the name of the school.
Student participation requires your permission. We hope you will encourage participation so that your child's opinion and knowledge can be part of the information gleaned from the survey. If you do not want your child to complete the survey, you must notify the school through the means communicated to you in the letter sent home from your school.
The survey will take place at school, but you can preview the survey questions below to facilitate your decision on granting this permission.
Than you for your attention.
Sample Survey
ENCUESTA NiÑOS SALUDABLES DE CALIFORNIA
ENCUESTA NiÑOS SALUDABLES DE CALIFORNIA
Estimado padre o tutor,
Estamos solicitando su permiso para que su hijo sea parte de la Encuesta de Niños Saludables de California de nuestra escuela patrocinada por el Departamento de Educación de California.
Esta importante encuesta ayudará a proporcionar datos para mejorar el entorno de aprendizaje escolar, el rendimiento académico y la salud y el bienestar de nuestra juventud. Incluye preguntas sobre abuso de drogas, seguridad y violencia, riesgo de depresión y suicidio, y orientación sexual. La participación de los estudiantes es voluntaria y anónima.
Su hijo no tiene que tomar la encuesta. No hay nombres ni ninguna otra información de identificación relacionada con las respuestas, excepto el nombre de la escuela.
La participación de los estudiantes requiere su permiso. Esperamos que anime a su estudiante con su participación para que la opinión y el conocimiento de su hijo puedan ser parte de la información obtenida de la encuesta. Si no desea que su estudiante complete la encuesta, debe notificar a la escuela a través de los medios que se le comunicaron en la carta enviada a casa desde su escuela.
La encuesta se llevará a cabo en la escuela, pero puede obtener una vista previa de las preguntas de la encuesta a continuación para facilitar su decisión de otorgar este permiso.
Gracias por su atención.
Encuesta Ejemplo
Parent University
Parent University
Our spring courses are coming up. Courses are scheduled to start in the first week of February. Please download the flyer

here

if you cannot scan the codes in our pictures.
24/7 academic support with PAPER
24/7 academic support with PAPER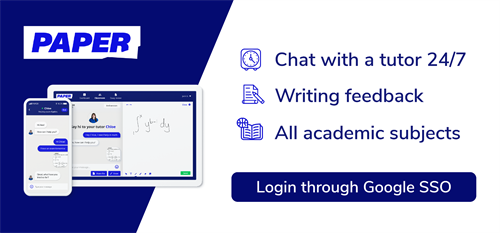 Paper
is a free, online, on-demand tutoring service that provides students with unlimited, 24/7 academic support. Whether they're stuck on homework, studying for a test, or need someone to read and make suggestions to their writing, there will always be experts available online to assist students one-on-one in
all subject areas
and in more than 4 languages. See
Paper FAQs
to learn more.
Paper tutors
have been specially trained to conduct expert, academic support in a secure, chat-based platform. With a commitment to helping students learn, they'll never give students answers, but rather facilitate deeper learning by asking guiding questions and providing timely encouragement.
Live chat: Students have 24/7 unlimited access to high-quality individualized tutoring via chat. When students hit a stumbling block on an assignment, they can connect with a tutor in under a minute and ask any academic question, any time across all subjects and in multiple languages. Students simply type in their question, upload a file or draw out the problem on the whiteboard.
Writing feedback: Students can receive feedback on their writing assignments to strengthen their writing skills. They can upload any type of written work to receive revisions from tutors within 24
hours. During the revision process, tutors highlight areas the student can improve and explain why, focusing on writing elements such as content, organization, citations and grammar.
Paper
es un servicio gratis de tutoría bajo demanda en línea que brinda a los estudiantes apoyo académico e ilimitado las 24 horas del día, los 7 días de la semana. Ya sea que estén atascados en la tarea, estén estudiando para un examen o necesiten que alguien lea y revise su escritura, siempre habrá expertos en línea para ayudar a los estudiantes individualmente en todas las materias y en más de 4 idiomas. Visite las
Preguntas Frecuentes
para aprender más.
Los tutores de Paper
han sido especialmente capacitados para brindar apoyo académico experto en una plataforma segura con interacciones por medio de chat. Con el compromiso de ayudar a los estudiantes a aprender, los tutores nunca darán las respuestas a los estudiantes, sino que facilitarán un aprendizaje más profundo por medio de preguntas orientadoras y proporcionando aliento en cada paso.
Los tutores de Paper actúan como asistentes de enseñanza las 24 horas del día, los 7 días de la semana, por lo que los maestros pueden asignar tiempo de instrucción de manera efectiva, con la confianza de que sus estudiantes siempre tendrán acceso a ayuda adicional. Los maestros siempre pueden revisar las sesiones de tutoría de sus estudiantes para identificar las brechas de aprendizaje individuales y ajustar su instrucción según sea necesario.
Para obtener más información sobre cómo Paper apoya a las familias y para inscribirse en una sesión de información para padres y representantes, visite:
https://paper.co/parents-guardians
Suicide Prevention
Suicide Prevention
Depression and other mental health issues are real. There is support for those that need help immediately.

National Suicide Hotline 1 (800) 273-8255
US Congressional Art Contest Winner, Priscila Jimenez CoRrales ('21), CUHS
US Congressional Art Contest Winner, Priscila Jimenez CoRrales ('21), CUHS
Congratulations to Priscila Jimenez Corrales of Central Union High School for her winning piece, "On Nana's Couch".
"I painted my youngest sister sitting on my Nana's couch while we were visiting family in Mexico for the first time in about 9 years. I was inspired to paint this since my sister has a certain gaze that I find unique to her and my brother, both of whom have Autism. I wanted to paint that gaze since I find it reflects my sibling's condition and as well the importance of patience and calmness, something that I find crucial when advancing from difficult circumstances, like the ones we are facing now," said Priscila Corrales.
It is an honor to congratulate our winner and all the participants that submitted amazing work for California's 51st district's Congressional Art Competition. Congressman Juan Vargas
The culmination of the competition will be the year-long display of the winning artwork at the U.S. Capitol.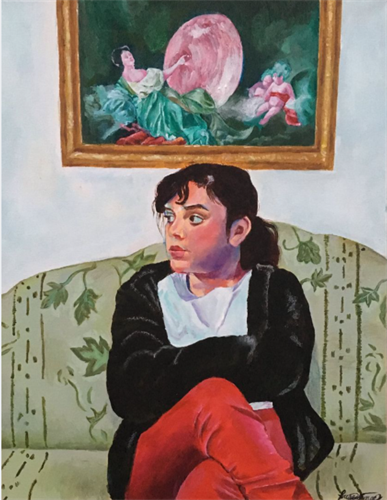 Our Mission
We each take responsibility for high expectations for students learning essential skills, and developing abilities and knowledge by working collaboratively with our school community and providing a safe learning environment.
Learn More