Request for Parent Feedback - Your opinion and input is important to us; please come and share
Request for Parent Feedback - Your opinion and input is important to us; please come and share
There will be a Parent LCAP Advisory Meeting on Tuesday, December 5th, at 5:30 pm at the District Office Board Room (351 Ross). Last year, we received great feedback that assisted us in determining professional development topics for staff, interventions to better support students, ideas for improved safety, etc. It is that time of year when we begin to draft our budget for the 24-25 school year, and we need your ideas. What are your student's struggles and needs? What can we do to improve? What is working for you and your student, and what can we do in areas that may not be working so well for you and/or your student?

Please come and share your thoughts and enjoy some tasty treats. Translation will be available for anyone who may need it. We need you!
Solicitud de Comentarios de los Padres - Su opinión y aportes son importantes para nosotros; por favor, venga y comparta.
Solicitud de Comentarios de los Padres - Su opinión y aportes son importantes para nosotros; por favor, venga y comparta.
Habrá una Reunión Asesora del LCAP para Padres el martes 5 de diciembre a las 5:30 pm en la Sala de Juntas de la Oficina del Distrito (351 Ross). El año pasado recibimos excelentes comentarios que nos ayudaron a determinar temas de desarrollo profesional para el personal, intervenciones para apoyar mejor a los estudiantes, ideas para mejorar la seguridad, etc. Es esa época del año en la que comenzamos a redactar nuestro presupuesto para el año escolar 24-25, y necesitamos sus ideas. ¿Cuáles son las dificultades y necesidades de su estudiante? ¿Qué podemos hacer para mejorar? ¿Qué está funcionando para usted y su estudiante, y qué podemos hacer en áreas que quizás no estén funcionando tan bien para usted y/o su estudiante?
Por favor, venga y comparta sus pensamientos y disfrute de algunas delicias sabrosas. Habrá traducción disponible para aquellos que la necesiten. ¡Lo necesitamos!
24/7 academic support with PAPER
24/7 academic support with PAPER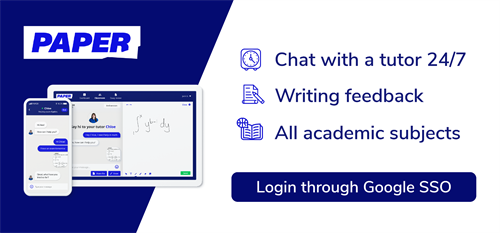 Paper
is a free, online, on-demand tutoring service that provides students with unlimited, 24/7 academic support. Whether they're stuck on homework, studying for a test, or need someone to read and make suggestions to their writing, there will always be experts available online to assist students one-on-one in
all subject areas
and in more than 4 languages. See
Paper FAQs
to learn more.
Paper tutors
have been specially trained to conduct expert, academic support in a secure, chat-based platform. With a commitment to helping students learn, they'll never give students answers, but rather facilitate deeper learning by asking guiding questions and providing timely encouragement.
Live chat: Students have 24/7 unlimited access to high-quality individualized tutoring via chat. When students hit a stumbling block on an assignment, they can connect with a tutor in under a minute and ask any academic question, any time across all subjects and in multiple languages. Students simply type in their question, upload a file or draw out the problem on the whiteboard.
Writing feedback: Students can receive feedback on their writing assignments to strengthen their writing skills. They can upload any type of written work to receive revisions from tutors within 24
hours. During the revision process, tutors highlight areas the student can improve and explain why, focusing on writing elements such as content, organization, citations and grammar.
Paper
es un servicio gratis de tutoría bajo demanda en línea que brinda a los estudiantes apoyo académico e ilimitado las 24 horas del día, los 7 días de la semana. Ya sea que estén atascados en la tarea, estén estudiando para un examen o necesiten que alguien lea y revise su escritura, siempre habrá expertos en línea para ayudar a los estudiantes individualmente en todas las materias y en más de 4 idiomas. Visite las
Preguntas Frecuentes
para aprender más.
Los tutores de Paper
han sido especialmente capacitados para brindar apoyo académico experto en una plataforma segura con interacciones por medio de chat. Con el compromiso de ayudar a los estudiantes a aprender, los tutores nunca darán las respuestas a los estudiantes, sino que facilitarán un aprendizaje más profundo por medio de preguntas orientadoras y proporcionando aliento en cada paso.
Los tutores de Paper actúan como asistentes de enseñanza las 24 horas del día, los 7 días de la semana, por lo que los maestros pueden asignar tiempo de instrucción de manera efectiva, con la confianza de que sus estudiantes siempre tendrán acceso a ayuda adicional. Los maestros siempre pueden revisar las sesiones de tutoría de sus estudiantes para identificar las brechas de aprendizaje individuales y ajustar su instrucción según sea necesario.
Para obtener más información sobre cómo Paper apoya a las familias y para inscribirse en una sesión de información para padres y representantes, visite:
https://paper.co/parents-guardians
Our Mission
We each take responsibility for high expectations for students learning essential skills, and developing abilities and knowledge by working collaboratively with our school community and providing a safe learning environment.
Learn More